Genesee does not send 'report cards' at the end of a semester when grades are issued. Grades are available only inside myGCC for viewing.
If you need official proof of your grades (i.e. your employer will reimburse your tuition based on what grades you earned), you can request a transcript be sent to whomever you wish.
To find your grades in myGCC, follow these steps:
Start by logging into myGCC. If you don't know your username or password, call the help desk (1-866-614-5004 — PRESS 1) and they can help you out. Don't leave a message here about your password, all we will do is tell you to call the help desk! 😉
On the "My Account" tab, look for the MyBanner Self Service module and click on the "My Banner Self Service" link.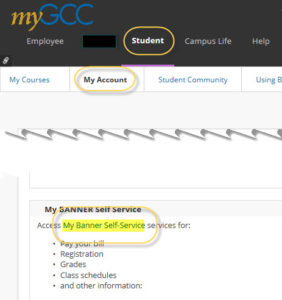 Once you're inside Student Services, click on the link to the "Student Records Information Menu"


Then click on the link to "Final Grades"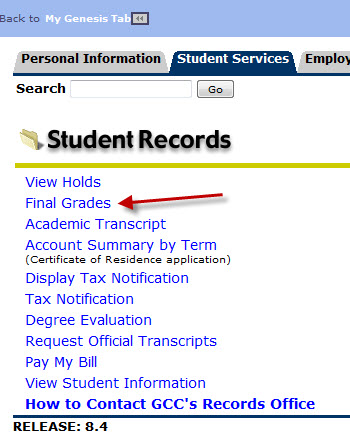 You will need to select the term. The term that is in the box may not be the term for the grades you are looking for. Use the drop down to change to the correct term, then click on Submit.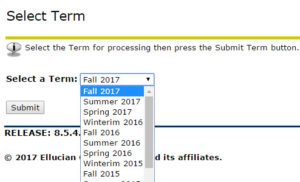 Ta-da! While you're here, don't just look at your grades. Look at the other information on the page and make sure it's correct. Do we have your correct major? Is that the correct degree program? If not, contact your advisor for assistance in getting that fixed.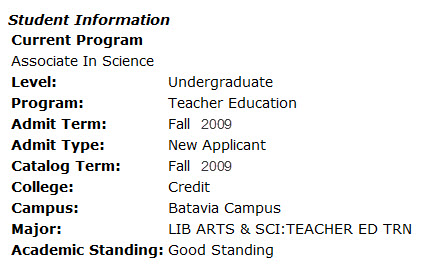 Grades for your classes are then listed. If you have *any* questions about a grade, contact your instructor. Only your instructor can answer questions about your grade. A "J" grade means that your instructor submitted grades after the grading deadline.

Also check your GPA (Grade Point Average).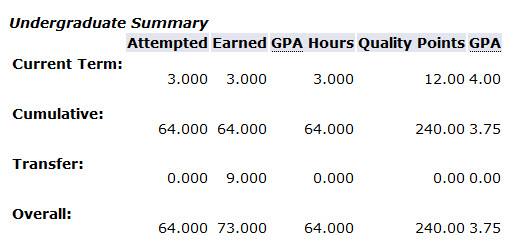 If your "current term" or "overall" GPA is less than 2.0, you may not be in good academic standing. If you are not in good academic standing, you will be contacted by the Advisement Office about what you may need to do. That is, you may need to drop a course that you have not completed the pre-requisite for or you may be in a situation where you need to drop some credit hours. We will let you know!
If you have done very well, a 3.75 GPA or better places you on the President's List; a GPA between 3.50 and 3.74 earns you a place on the Dean's List. These honors are not calculated as soon as grades are available; there is a 7-10 working day delay.